SPANIS
H


Vasco Núñez de Balboa (1474–January 15, 1519)
was a Spanish explorer, governor, and conquistador. He is best known for having crossed the Isthmus of Panama to the Pacific Ocean in 1513, becoming the first European to lead an expedition to have seen or reached the Pacific from the New World.
He traveled to the New World in 1500 and, after some exploration, settled on the island of Hispaniola. He founded the settlement of Santa María la Antigua del Darién in present-day Colombia in 1510, which was the first permanent European settlement on the mainland of the Americas (a settlement by Alonso de Ojeda the previous year at San Sebastián de Urabá had already been abandoned).
Juan Rodríguez Cabrillo (ca. 1499 – January 3, 1543), João Rodrigues Cabrilho in Portuguese, was a Portuguese explorer noted for his exploration of the west coast of North America on behalf of Spain. Cabrillo was the first European explorer to navigate the coast of present day California in the United States. He also helped found the city of Oaxaca, in Mexico.
Hernando de Cortes
1485 – December 2, 1547) was a Spanish
conquistador
who led an expedition that caused the
fall of the Aztec Empire
and brought large portions of mainland
Mexico
under the
King of Castile
, in the early
16th century
. Cortés was part of the generation of Spanish colonizers that began the first phase of the
Spanish colonization of the Americas
.
Eusebio Francisco Kino
S.J.
(
August 10, 1645
–
March 15, 1711
) was a
Catholic
priest who became famous in what is now northwestern
Mexico
and the southwestern
United States
(primarily northern Sonora and southern Arizona) for his exploration of the region and for his work to
Christianize
the indigenous
Native American
population, including primarily the
Sobaipuri
and other Upper Piman groups. He proved that
Baja California
is not an island by leading an overland expedition there from
Arizona
. He established twenty-four
missions
and
visitas
("country chapels") and was known for his ability to create relationships between indigenous peoples and the religious institutions he represented.
Hernando de Soto
Hernando de Soto or (c.1496/1497 - 1542) was a Spanish explorer and conquistador who, while leading the first European expedition deep into the territory of the modern-day United States, was the first European to discover the Mississippi River.
A vast undertaking, de Soto's North American expedition ranged throughout the southeastern United States searching for gold and a passage to China. De Soto died in 1542 on the banks of the Mississippi River at present-day Lake Village, Arkansas.
Hernando de Soto was born to parents who were hidalgos of modest means in Extremadura, a region of poverty and hardship from which many young people looked for ways to seek their fortune elsewhere. Two towns—Badajoz and Barcarrota—claim to be his birthplace. All that is known with certainty is that he spent time as a child at both places, and he stipulated in his will that his body be interred at Jerez de los Caballeros, where other members of his family were also interred.[1] The age of the Conquerors came on the heels of the Spanish reconquest of the Iberian peninsula from Islamic forces. Spain and Portugal were filled with young men begging for a chance to find military fame after the Moors were defeated. With discovery of new lands to the west (which seemed at the time to be East Asia), the whispers of glory and wealth were too compelling for the poor.
Álvar Núñez Cabeza de Vaca (Jerez de la Frontera, ca. 1490/1507 – Sevilla, ca. 1557/1559) was a Spanish explorer of the New World, one of four survivors of the Narváez expedition. He is remembered as a proto-anthropological author for his accounts of Native Americans, first published in 1542 as La Relacion (The Report), and later known as Naufragios (Shipwrecks).
De Soto sailed to the New World in 1514 with the first Governor of Panama, Pedrarias Dávila. Brave leadership, unwavering loyalty, and clever schemes for the extortion of native villages for their captured chiefs became de Soto's hallmark during the Conquest of Central America. He gained fame as an excellent horseman, fighter, and tactician, but was notorious for the extreme brutality with which he wielded these gifts.
During that time, Juan Ponce de León, who discovered Florida, Vasco Núñez de Balboa, who discovered the Pacific Ocean (he called it the "South Sea" below Panama), and Ferdinand Magellan, who first sailed that ocean to the Orient, profoundly influenced de Soto's ambitions.
Francisco Pizarro González, 1st Marqués de los Atabillos (c. 1471 or 1476 – 26 June 1541) was a Spanish conquistador, conqueror of the Incan Empire and founder of Lima, the modern-day capital of Peru. Pizarro was born in Trujillo, Extremadura, modern Spain. Sources differ in the birth year they assign to him: 1471, 1475–1478, or unknown. He was an illegitimate son of Gonzalo Pizarro Rodríguez de Aguilar (senior) (1446-1522) who as colonel of infantry served in the Italian campaigns under Gonzalo Fernández de Córdoba, and in Navarre, with some distinction. His mother was Francisca González Mateos, a woman of slender means from Trujillo, daughter of Juan Mateos, of the family called Los Roperos, and wife María Alonso, labradores pecheros from Trujillo. His mother married late in life and had a son Francisco Martín de Alcántara, married to Inés Muñoz, who from the beginning was at the Conquest of Perú, where he then lived, always at his brother's side, who held him always as one of his most trusted men.[1] Through his father, Francisco was second cousin to Hernán Cortés, the famed conquistador of Mexico.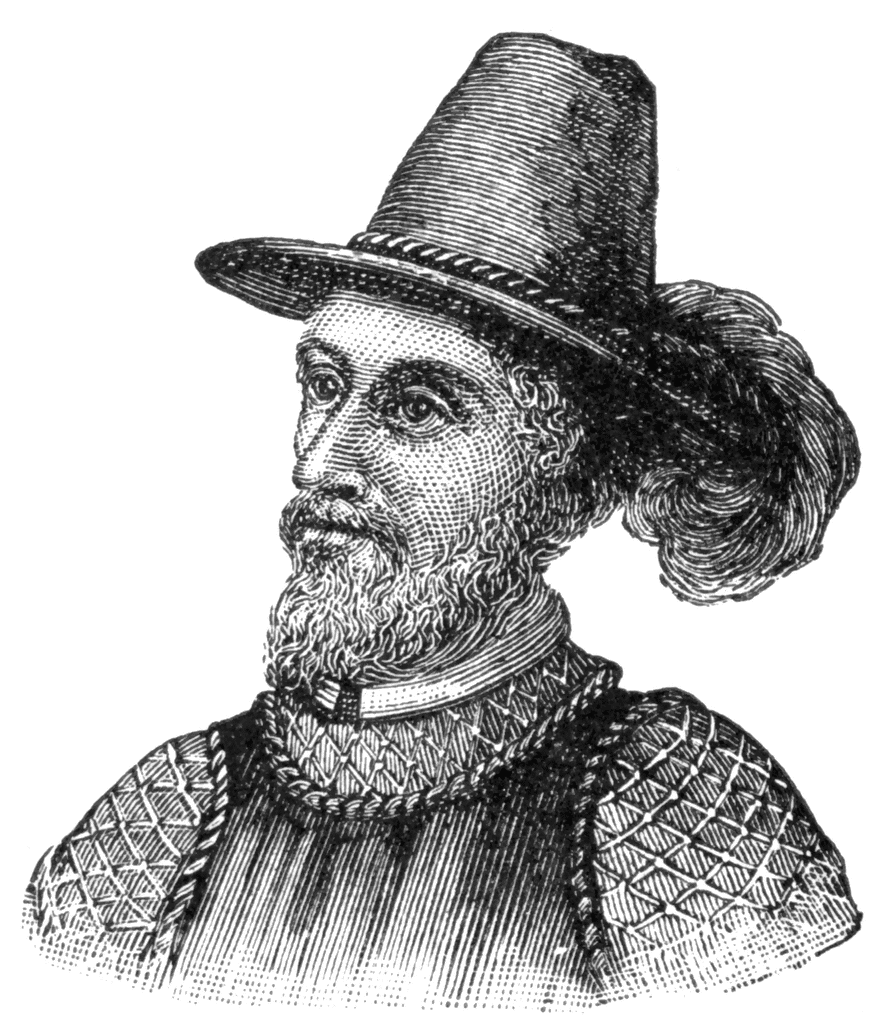 Juan Ponce de Leon

Juan Ponce de León y Figueroa
[

1

]
, (1474 – July 1521)
[

2

]
was a
Spanish
explorer
. He became the first
Governor of Puerto Rico
by appointment of the
Spanish Crown
. He led the first
European
expedition
to
Florida
, which he named. He is associated with the legend of the
Fountain of Youth
, reputed to be in Florida.